One of the greatest benefits about spending the year abroad is the food. Don't get me wrong, I love a good slice of
Chicago deep dish pizza
, and I am a firm believer in the revival of British cuisine, but being in both France and Spain over the past 7 months has given me the opportunity to taste so much good food. In France it was
foie gras
,
steak frites
,
gratinée lyonnaise
, my favourite ever cheese saint-marcellin and the slightly unique
Lyon
delicacies of
quenelles
and
andouillette
. I collected many recipes during my time there of typical 'French' foods that I planned (and still
do
plan) to master and use to dazzle friends and family with. I've only tried one of these recipes so far, the
fougasse aux olives
, a delicious olive bread that I first discovered at
Paul's patisserie
as a part of their
tomate mozzarelle
sandwich (by the way, pair that with a bottle of orangina and you've got yourself the best hangover cure ever).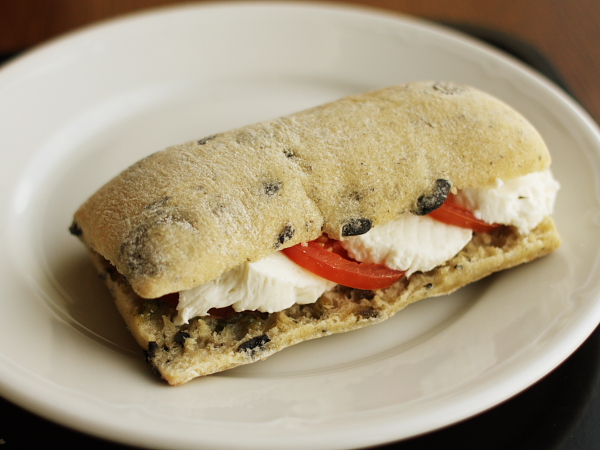 the world's greatest sandwich
Now that I have a kitchen at my disposal, I plan to learn how to cook authentic Spanish food while I'm actually
in
Spain. Most of the things I feel are relatively simple and I could figure out the recipe without much help. There are of course, a few foods that have me completely stumped and I shall have to consult some experts on how to make those particular yummy things. Anyway, so far I've come up with this list; any suggestions on what to add however would be most welcome!
1. boquerones fritos- I've been in love with these tapas dish ever since I was little. My family used to holiday in the same tiny fishing village in the south east of Spain every summer, and being a picky little eater, these were one of the few things I would eat. Translated as anchovies or whitebait, these fish also come served in vinegar but they're nothing compared to the deep fried version.
2. paella- probably the most iconic Spanish dish out there, and definitely the most known outside of Spain. Although originally a Valencian dish, there are three main varieties of paella: Valencian, seafood, and mixed. This rice dish traditionally contains meat (chorizo), seafood, vegetables and beans, although I've seen so many "everything but the kitchen sink" versions of these I'm pretty sure that anything goes.
3. chorizo al vino- chorizo in wine– sounds simple, right? Not so. The chorizo, once cooked, has to marinate in the wine for a minimum of 8 hours. And once you taste it you can see why. The wine complements the chorizo's smokey flavour oh so well. You'll never want to eat anything else.
4. calamares- another very well-known recipe, another tapas staple. This deep-fried squid is perfect with just a wedge of lemon, and nothing else. Perfect simplicity.
5. salmorejo cordobés- slightly similar to gazpacho, salmorejo actually originated in Córdoba. Made with tomatoes, bread, olive oil, garlic, and vinegar, this thick soup is served cold with diced jamón serrano and hard-boiled egg should you choose (I, personally, will be avoiding the egg). This sounds just perfect for when the renowned Andalucían summer sets in.
6. churros- in this town if you want to enjoy churros outside of your own home, you gotta do it before midday. This is where our flatmates and I are tripping up. Finding it hard to adjust to the Spanish bedtime (either going to bed way too early or way too late) we are only ever up and out of the house before midday if we have a class to go to. This is why I'm determined to master the art of churros con chocolate– something which I'm sure could do a world of good for the soul after a tough class or a night out.
I shall keep you all updated with my progress!